Lisa Parrish, who has led the industry's design awards judging for the last 30 years (along with her husband and her father), provides a wealth of information in this podcast. At this year's Gold Nuggets Awards show alone, she reviewed more than 600 applications in 49 categories. In this podcast, Lisa and Dean Wehrli discuss:
The interaction between great design and profitability
Recent community innovations
Recent new home innovations
Improving sales
Designers Now More Focused Than Ever on Profitability
Lisa talks about the lessons learned over time, with designers and judges realizing now more than ever that great design needs to beautiful, practical, and profitable. Perhaps one of the biggest surprises in the podcast was her views on great design in a slow market.
"Slowdowns are a nice normal necessity in our world....They allow everyone to take a deep breath and make adjustments, and they have to become more considerate of their design. Great strides and ingenuity [occur] during a slowdown."
As an example, this year's Gold Nugget Home of the Year could have gone to one of several amazing $2 million+ homes. Instead, the judges chose a home 80 miles east of Los Angeles that was priced below the FHA limit and that was "efficient and effective to build and a sales success." Lisa also noted some amazing homes built by Toll Brothers in Utah, Nevada, and Idaho at prices that are less than half of their national average price.
Recent Community Innovations
Lisa noted three of the hottest masterplan trends are sense of place, tribal mentality marketing, and gathering places. Below are some of her great insights. Sense of Place
"Creating place became a huge opportunity [during this cycle]." "Now you have to craft something important and long lasting." "Hiking trails and dog parks have taken over pools and gyms."
Tribal Mentality
"Look at

Margaritaville in Florida

. What a fantastic branding opportunity to be able to see that there is this boomer market and see that there is a tribe and lean into that." "Their top buyers are engineers and doctors who want to live that lifestyle." [

Whisper Valley in Austin

tapped into these affluent buyers with] "a sustainable neighborhood with geothermal and solar and other technologies for those folks who are very into that sustainable lifestyle."
Gathering Places
"Places for people to gather," such as

The Hub at Daybreak

"Grassroots, smaller-scale things" like

Farmer Ross

teaching people to farm on-site at Harvest by Hillwood (

You really need to watch the video.

) "Opportunities in pockets"
Recent New Home Innovations
Three of the hottest new home trends are spa-like bath, glorified chef's kitchen, and rooftop deck. Also, Lisa hears in almost every single market in the country:
"A single-story ranch plan, if it was offered, would outsell almost every other plan in the neighborhood….Almost universally the best seller."
Lisa also has some insightful and perhaps controversial views on frequently discussed new home trends:
Multigenerational living. "I don't know. I have yet to hear of the sales successes."
Co-living. "It is market-driven in certain areas. Seattle, Northern California. High price points."
Home size. "3000-square-foot single-family detached homes are going to have to adjust."
Urban vs. suburban. "Builders are going into smaller scale and more vertical and smaller square footage."
Improving New Home Sales
Lisa believes the industry can do a better job showcasing the reason to buy a new home instead of a resale or remodeling. She cited a new contingency sale solution used twice recently by her own family members. Offerpad and Opendoor made it really easy for each of them to sell an old home and move to a new home in 30 days, resulting in a huge improvement in lifestyle for both of her family members. Lisa also reminds us that promoting a design award has never been easier:
"Awards sell homes….We live in a HGTV land today where everybody wants to have an Instagrammable home." Consumers want to say, "I live in an award-winning home."
Staying on Top of Great Community and Home Design
Jenni Lantz, our DesignLens™ Manager, speaks with Lisa every month about designs we should be photographing and analyzing for our clients. If you don't have time to survey all of the great designs around the country, ask Jenni for more information about our DesignLens membership services and our annual Design Summit.
Don't miss out on future episodes!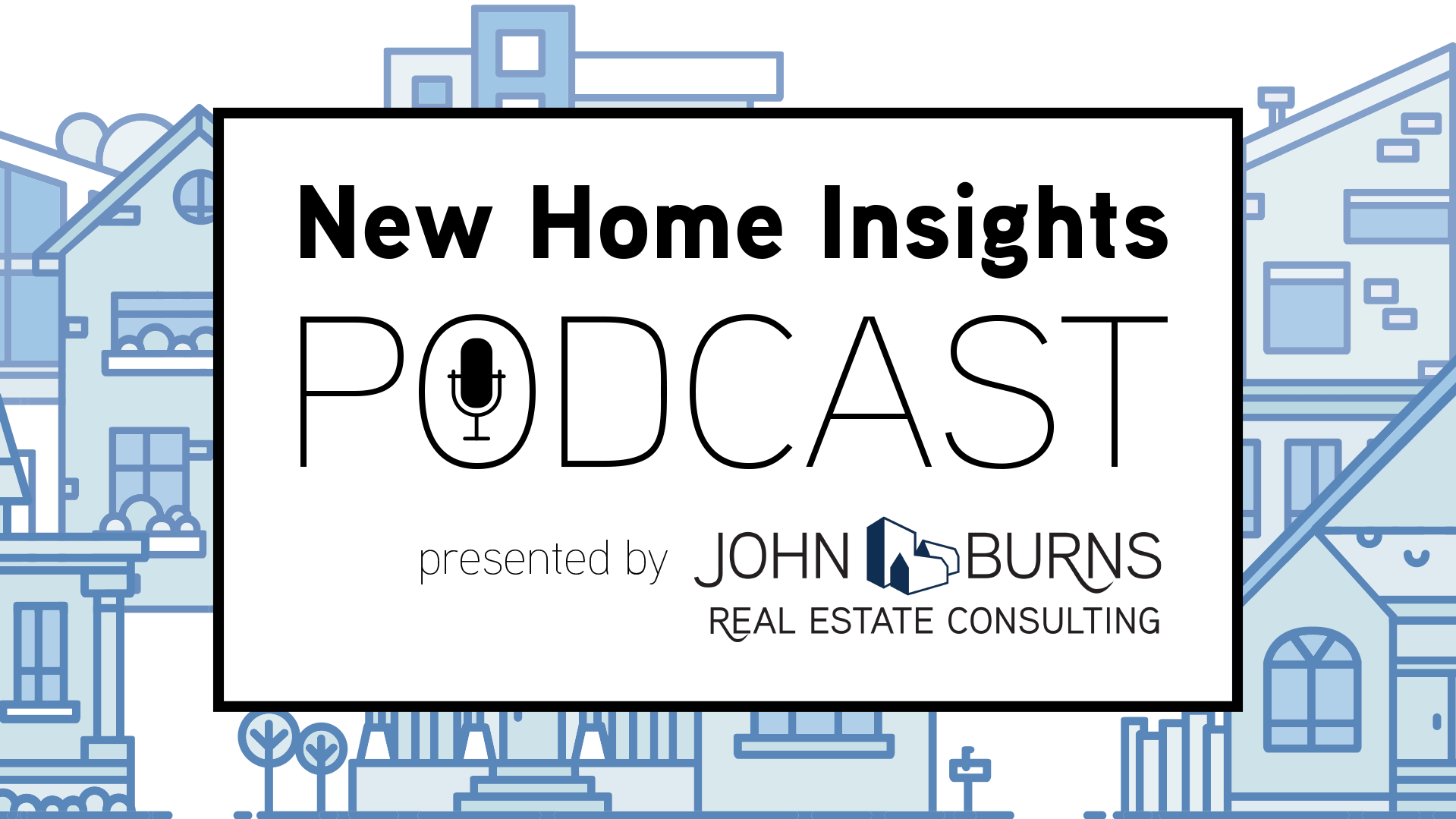 The New Home Insights podcast is available on various platforms, including Apple Podcasts, Google Play Music, and Spotify. Episodes will be released bi-weekly. To receive email notifications whenever a new episode is released, fill out the form found on this page.