Three catalysts—code adoption, credibility, and competitive pressure—are driving offsite construction forward. Here are six factors that will help you decide if offsite is right for you. These conclusions come from a New Home Trends Institute webinar where we hosted with four experts with a wide variety of expertise in offsite construction: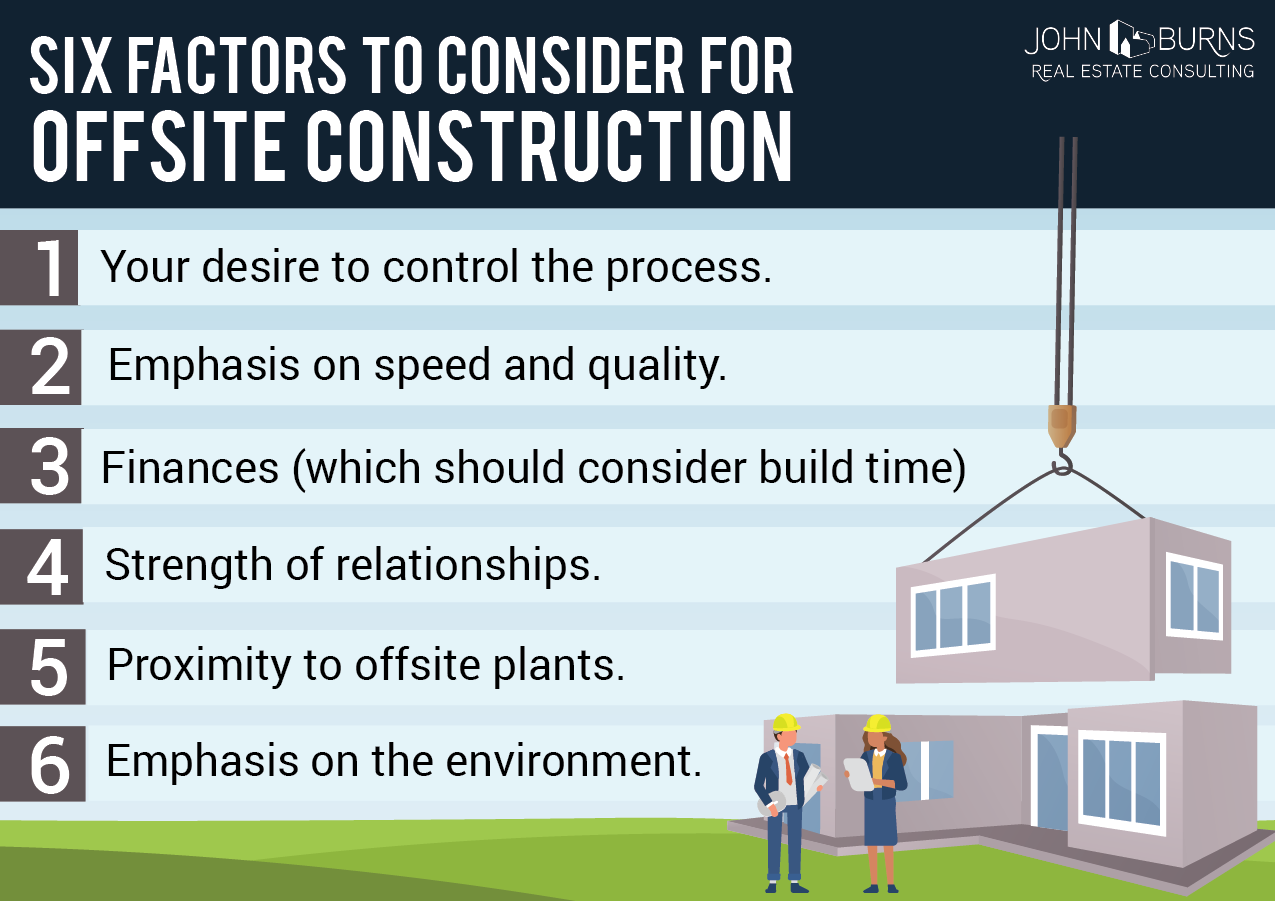 ​
Six factors to consider
Your desire to control the building process. The more you control in the construction process (from initial design to the field), the more you control your own destiny. This is especially important with today's supply chain issues. Consider moving one piece of the process from "subcontracted" to "self-performing" per quarter.
Your emphasis on speed and quality. Offsite and prefab methods address speed, labor quality, and construction quality issues. Modular brings you speed but also creates logistical challenges.
Your financial analysis, which needs to consider build time. The direct cost of offsite will be higher than traditional stick framing. However, those costs are made up in speed to market, less waste, eliminated scaffolding, and more. Speed to market is one reason single family build-for-rent will likely be a likely driver of offsite, since speedy construction results in quicker leasing.
Your relationships with inspectors and permit authorizers. Building good relationships and fostering clear communication with municipalities (state and local), underwriters, and code officials will impact your success.
Your location. Offsite construction requires careful logistical coordination between where pieces are built and where they are set. Proximity to offsite plants should be a determining factor.
Your emphasis on the environment. Offsite can impact the environment in numerous ways, including reduced waste, reduced noise on site, safer work environment, and healthier air quality (from less dust being kicked up). If sustainability is a focus area right now, industrialized construction in some form may be a solution.

​
Participate in the Building Materials Survey for Framers & Component Manufacturers
John Burns Real Estate Consulting is partnering with SBCA to launch a new joint survey for framers and component manufacturers. Help us, help you better understand what is happening in your market. By participating in the survey you will get access to a wealth of data and analysis that will give you valuable information to navigate the upcoming year.