Insights from 12,000 consumers and over 300 architectural designers surveyed by the New Home Trends Institute inspired KTGY to incorporate four new design features in the Smart/Connected home at ProBuilder's 2022 virtual Show Village.
Dual office spaces
A casita at the rear of the house, merchandised as an office, plus a separate pocket office upstairs.

Why include multiple workspaces?
51% of workers will work from home this year, up from 33% before the pandemic.

13% will work from home full time.
38% will work from home with a hybrid schedule

Homeowners want flexible secondary workspaces. 82% of architectural designers included dual office spaces in one or more of their residential projects in 2020.
Why not put the office at the front of the home?
Homeowners' top two most-preferred office locations are (1) upstairs, separate from the primary bedroom and (2) off the back of the house, with direct access to the yard. Both spots provide more privacy than an office at the front of the house.
Island seating
An extended island with seating in place of separate kitchen dining.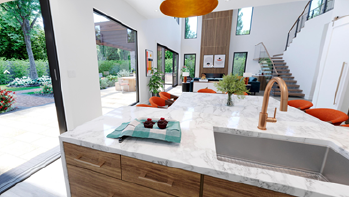 Why skip separate kitchen dining?
Homeowners are open to this space-saving tradeoff. 85% of homeowners would consider island seating over a separate dining space in the kitchen.
More outdoor access
Four distinct outdoor access points, with the primary one extending the kitchen.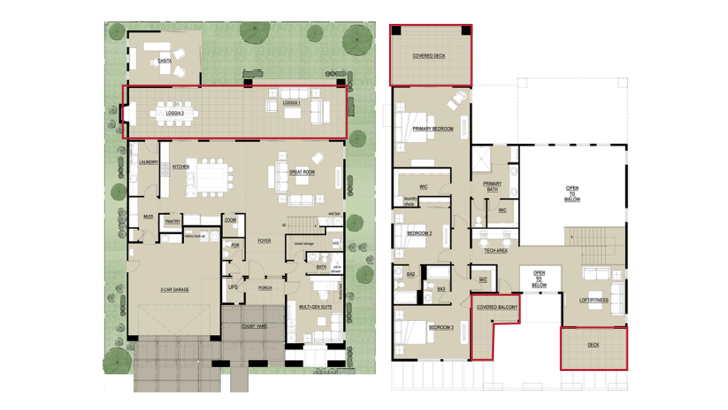 Why include so much outdoor access?
88% of homeowners say their outdoor spaces are important or very important to them. 59% say the importance has increased due to the pandemic.
Architectural designers say that connection to the outdoors/nature will be their second largest consideration when designing homes, after cost, over the next three years.
Why connect outdoor space to the kitchen?
51% of homeowners say the kitchen is the most important space that home design "gets right." Outdoor kitchens and entertainment-centric yards increase the value of outdoor spaces by making them an extension of the most valued part of the home (the kitchen).
Architectural designers say that designing great outdoor entertainment spaces will become a bigger focus than designing great indoor ones.
Modern elevation and mixed materials
Mid-Century Modern elevation design with material mixing.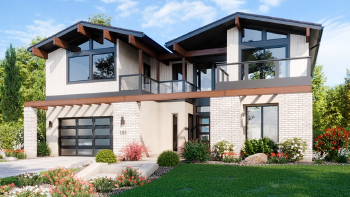 Why Mid-Century Modern?
Mid-Century Modern will be the fourth most popular design style over the next three years, per the architects designing future homes.
35% of homeowners would buy a Mid-Century Modern style home. While a lower share than other elevations, it is much higher than the current low supply of homes in this style.
Classic Mid-Century Modern themes help homeowners meet two key (but competing) priorities—natural light and privacy—with unique window shapes that extend to the roofline and a heavier concentration of windows off the back of the home.
Why mix and match?
68% of homeowners believe exterior material mixing improves a home's design. 43% believe the improvement is dramatic.
Putting data behind design decisions is at the heart of what the New Home Trends Institute is about. To learn more about how we can support your designs, reach out to Mikaela Arroyo.