This summer, our New Home Trends Institute* got inside the minds of 6,000+ build-to-rent tenants we surveyed. We are using these survey findings to help our clients outperform the competition. Here are four of our findings:
1. Most BTR tenants are relocators, so don't focus all your marketing within the local city.
2. Schools are often less important than many believe. School quality matters more for people living in single-family detached communities but is not a concern for people living in cottage communities, which tend to attract tenants without children.
3. On-site maintenance and professional management are a huge competitive advantage over scattered rental homes. Emphasize the maintenance in your marketing efforts.
4. Tenants are just as likely to own pets as homeowners. Most tenants factor pet friendliness into their home selection, which helps explain why a fenced yard is a top amenity in choosing a home and is another competitive advantage versus many apartments and scattered rental homes.
1. Build-to-rent communities attract relocators, who are more likely to be in a transition phase of life.
Most tenants are not long-term renters by preference—many plan to purchase a home in two to three years. The attraction to build-to-rent often comes from the ability to live somewhere temporarily while they await their next step or get to know a new area. With more tenants coming from outside the city (62%) than inside it (37%), it would be a mistake to concentrate your marketing spend inside the city limits.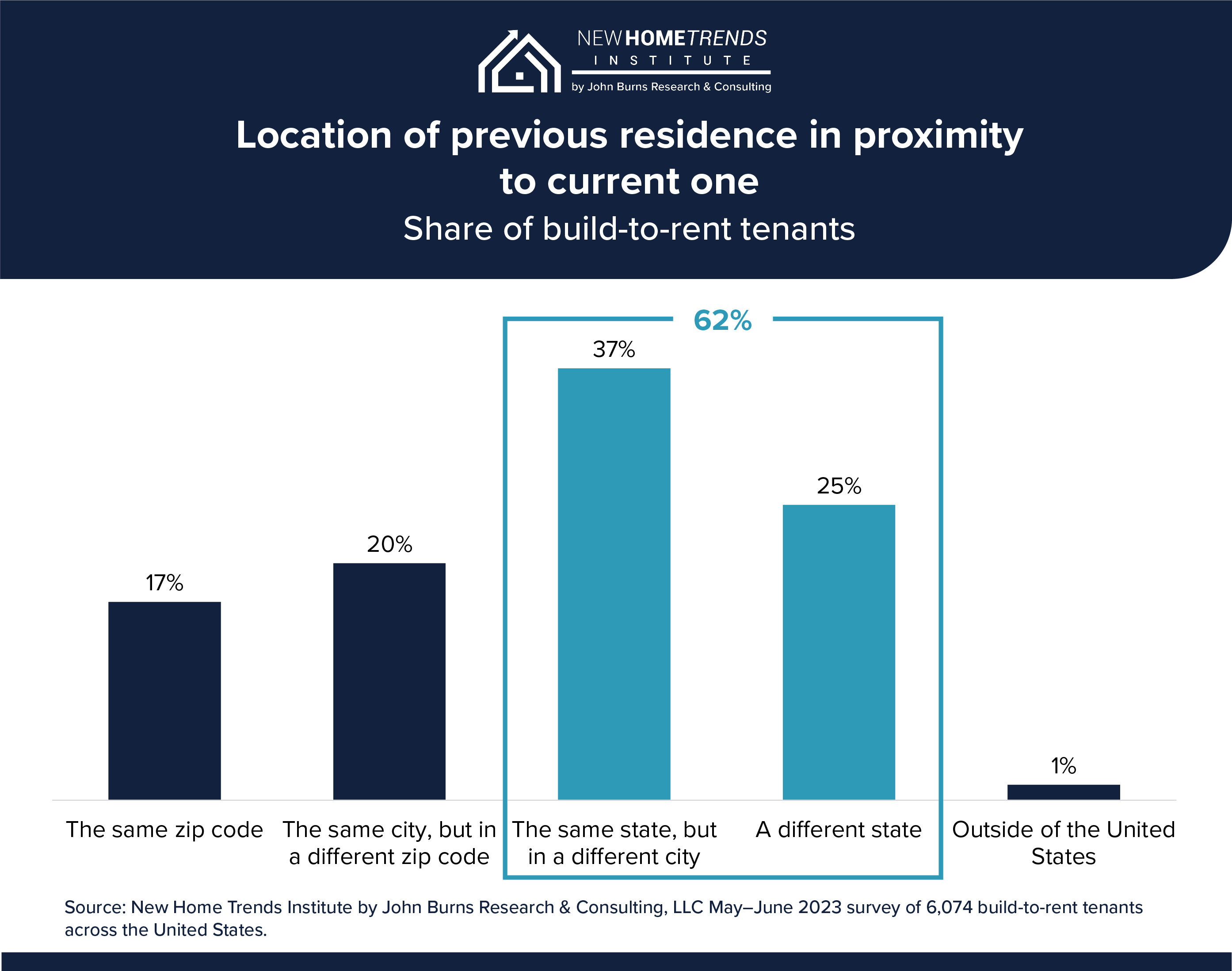 2. Consider less expensive sites—where school quality is less of a concern—for rowhome and cottage communities.
While most for-sale housing land acquisition professionals have been trained to look for sites near good schools, consider other locations where lower rents will be attractive.
Single-level rowhome communities are occupied mainly (58%) by empty nesters, for whom proximity to family and friends is the main appeal.

Cottages are occupied mainly by young singles or young couples who value proximity to work above all else. Unlike home buyers, who often consider future children in their location decisions, cottage residents do not prioritize school quality in their location decisions.

Single-family detached homes primarily draw families, making school quality an important consideration.
3. On-site maintenance and professional management are build-to-rent's most significant competitive advantages over scattered single-family rental homes.
For tenants, maintenance-free living is the number one reason: 56% say they do not want the maintenance responsibilities of homeownership. Tenants appreciate on-site maintenance and professional management even more than having brand-new homes. As newness diminishes over time, the enduring value of maintenance benefits will remain steadfast and help keep rents high.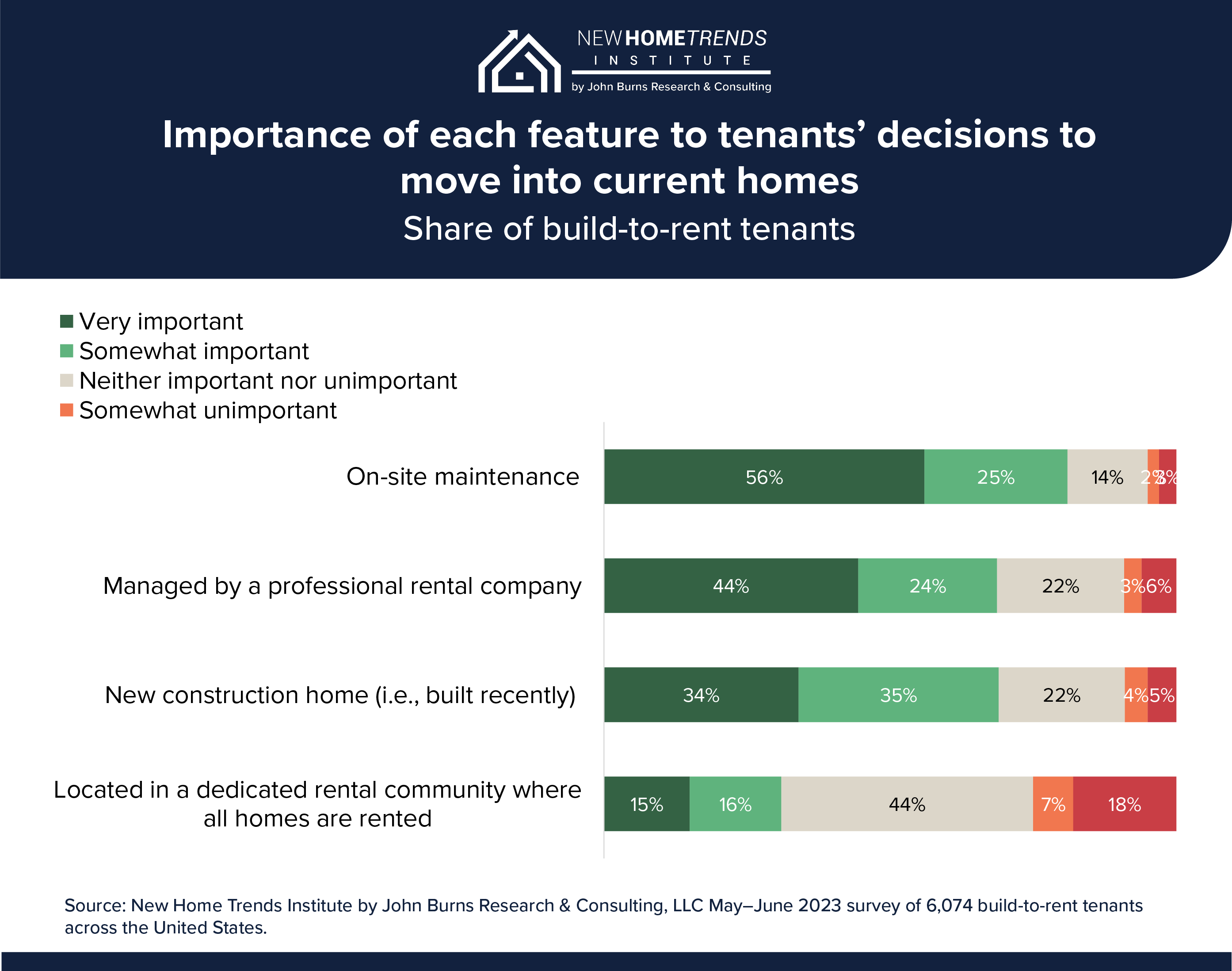 4. Pet-friendliness—including fenced yards, which is the second most influential design feature—is particularly important in cottage communities.
Most tenants—and up to 74% of cottage tenants—say that pet friendliness is an important consideration when selecting a home. Nearly half of all tenants (45%) have at least one dog, a similar share to all US households (which includes homeowners).1 Additionally, 16% of tenants have cats. Fenced yards are a significant value add to tenants, ranking only behind an attached garage in priority. Wondering how much the fence matters? An unfenced yard ranked last in design features that would influence tenants' rental decisions.

Understanding your tenant is the first step to crafting messages that resonate. Contact us today to elevate your approach with a deeper understanding of the build-to-rent consumer.
*The New Home Trends Institute is a John Burns Research and Consulting research suite membership. In May and June 2023, the New Home Trends Institute team surveyed tenants living in dedicated build-to-rent communities. The survey garnered over 6,000 responses across the United States.
¹ Michelle Megna, "Pet Ownership Statistics 2023," Forbes Advisor, June 21, 2023, https://www.forbes.com/advisor/pet-insurance/pet-ownership-statistics/#sources_section.
Join us at the Annual Build-To-Rent, Land & Homebuilding Forum (West)