At the International Builders' Show, we identified six new home construction and repair/remodeling design trends. For additional detail and photo examples, click here.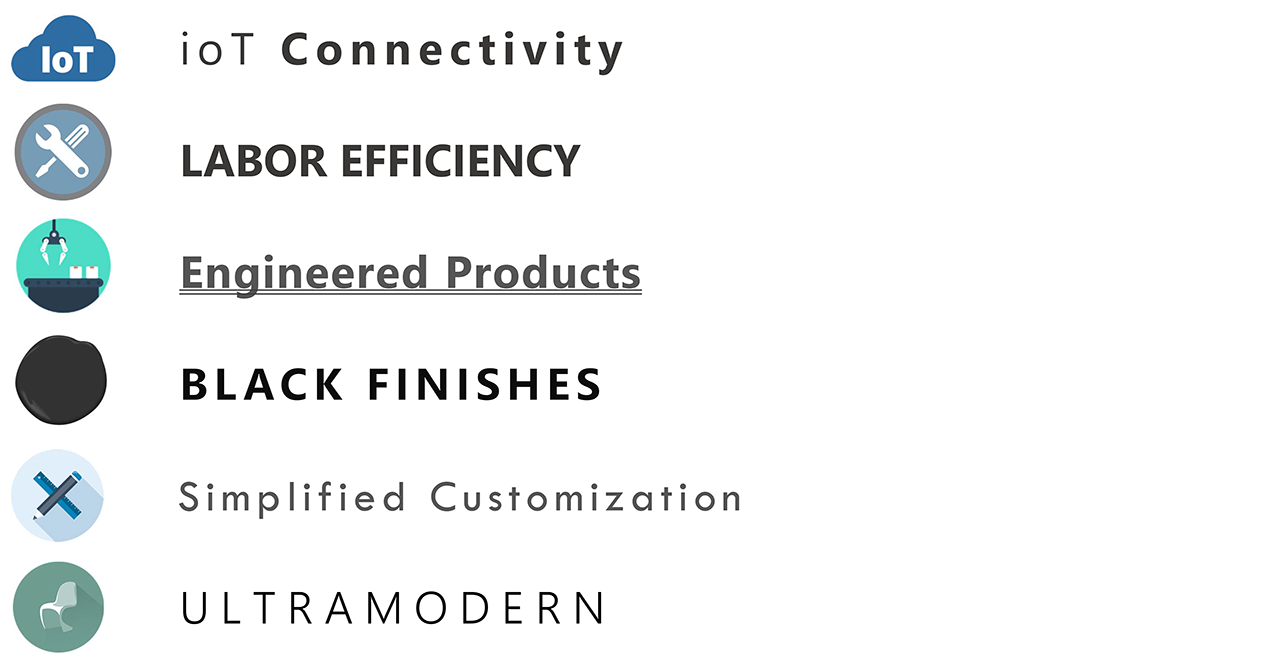 ​
Internet of Things (IoT) technologies open the door to whole-home connectivity. Amazon's Alexa and other personal assistants have opened the flood gates for smart home products, especially in home security, plumbing, appliances, and HVAC.

Labor efficient products take center stage. Building product manufacturers continue to invest in products that streamline the installation processes, with KATERRA's large booth the poster child for potential labor disruption this year.

Engineered products offer great design and less maintenance. Engineered products look increasingly like their natural counterparts, often at better or comparable prices. We found many examples in commodities (decks, subfloor, siding, doors) and design finishes (countertops, surfaces, interior millwork).

Black is back. Black finishes dominated the appliance, plumbing, hardware, and window/door exhibits.

Customizing becomes simpler. Customizable product offerings this year focused on minimizing costs and complexity for the consumer. Standouts included private-label hardware options, mix-and-match handle/spout colors and finishes, and appliance panel customizing options.

Design has shifted to ultramodern. Exhibitors highlighted ultramodern interior designs, mirroring the home builder shift to ultramodern home elevations.
Backed by significant consumer research (which has become easier thanks to consumer behavior on websites such as Houzz and Pinterest—and email surveys such as ours), building products companies continue to offer new products to stay one step ahead of the competition. Home builders and remodelers who offer these products will continue to grow their market share, since resale homes do not keep up with these trends.
Our growing building products research and consulting business and our DesignLens™ business continue to help us inform our expanding builder and developer consulting business. If you want to benefit from what we are learning, please contact me or fill out a form on any of the webpages linked to above, and the right person will get back to you.